Your search for "berlin divided" returned 1380 results
Preview Unavailable
Interview with Dr. Bernard Lewis pt 2
00:00:38>>> DR. LEWIS:, Yes, I think one has to try and remember the context of 1948. The Partition of Palestine followed not very long after the Partition of India, in the previous year; a simi...
More info...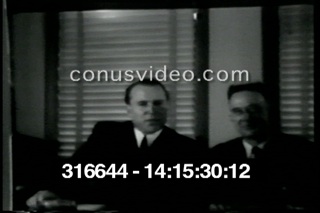 BERLIN CRISIS: BIG 4 AGREE TO LIFT SIEGE (1949)
B&W newsreel film. The Berlin Crisis refers to the blockade of West Berlin by Soviet forces between 6/24/1948 through 5/12/1949. Western Countries, led by the US and Britain, created an airlif...
More info...

Preview Unavailable
DN-LB-585 Beta SP
News In Brief - Berlin [Wall on 6th Anniversary]
More info...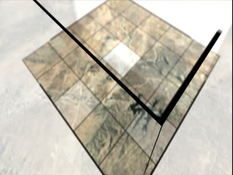 Return ticket: [issue November 14, 2021]
France 24
More info...
DIVIDED BERLIN (CQ03209)
Checkpoint Charlie in the American section of West Berlin. U.S. Soldiers man the checkpoint at night. Tanks stand guard at the border crossing between West and East Berlin. Sign at Checkpoint Charl...
More info...
East German refugees in Marienfeld Refugee Re...
During mounting Berlin Crisis, view of map of Germany with separated East and West Germany. East Berlin refugees gathered and on streets with their luggage at Marienfeld Refugee Reception Center i...
More info...
WALL DIVIDES BERLIN - 2
The Berlin Wall divides families on opposite sides of the wall. East Berliners flee, successfully crossing the barricade despite police attempts to stop them.
More info...
ART STUDENT MOLDING
00:00:00:00 INT student in art studio sculpting bust/ VS woman sculpting bust/ CU clay bust divided in sections/ CU woman scraping neck of sculpture/ (0:00) /
More info...
Ministers of Foreign Affairs of France, Amer...
Berlin is divided into four areas after the end of the war.
More info...
Berlin Wall Comes Down
28 years after its construction, the Berlin Wall falls, paving the way for the reunification of Germany. Co-production with the BBC.
More info...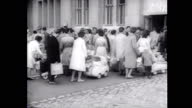 Universal Newsreel - migration from E. to W. ...
American newsreel report showing refugees disembarking from a tram and seemingly making their way through a checkpoint or reception centre (Notaufnahmelager) at the border between East and West Ber...
More info...
74512 Army In Action Episode 9
74512 THE BIG PICTURE "ARMY IN ACTION" MARSHALL PLAN EPISODE 9
More info...
---