Your search for "grinberg" returned 20443 results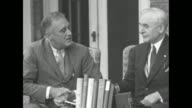 Pres. Franklin Roosevelt with Cordell Hull in...
MCU President Franklin Roosevelt shakes hands with US Secretary of State Cordell Hull outside Roosevelt's home in Hyde Park; SOT Roosevelt praises Hull's representation of US at the World Economic ...
More info...
Russia: reactions to the announcements of Put...
AFP Video
More info...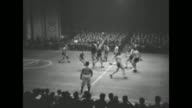 City College of New York and Providence Colle...
Title card: "BASKETBALL IN SPOTLIGHT OVER NATION" / Title card: "New York" superimposed over jump ball beginning basketball game between City College of New York (CUNY) in black, and Providence Co...
More info...
File batorama
Grand Est
More info...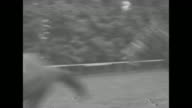 Equipoise wins the 1933 Wilson Stakes at Sara...
Title card: "EQUIPOISE TURF STAR AT SARATOGA!" / LS crowd milling around on lawn at Saratoga Race Course / MLS jockeys ride horses out onto field / LS horses walk along racetrack prior to race / MC...
More info...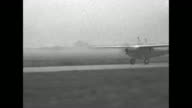 Rossi and Codos take off from New York on tra...
MLS-PAN LEFT Bleriot 110 airplane "Joseph Le Brix, " carrying French aviators Maurice Rossi and Paul Codos, takes off from runway at start of transatlantic flight, past and away from camera / Not...
More info...
Scenes from 1933 Royal Canadian Henley Regatt...
Title card: "STIRRING RACE FEATURES ROYAL CANADIAN HENLEY" / VS 1933 Royal Canadian Henley Regatta, rowing competition, in progress at Royal Canadian Henley Rowing Course in Port Dalhousie, Onta...
More info...
DAY WITHOUT CAR In PARIS
FR3 / France 3
More info...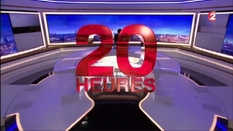 20 hours: [programme of June 20th, 2017]
A2 / France 2
More info...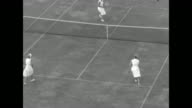 US Women's Tennis team defeats Britain in 193...
Title card: "WOMEN LEAD US COMEBACK IN TENNIS! American team keeps Wightman Cup by beating British in singles" / MLS high angle view of US Women's Tennis Team, from left to right: reporter, Mrs. ...
More info...
---