Your search for "Mesa Arizona helicopter crash" returned 3 results
US Crash
AP-APTN-0930: US Crash Thursday, 24 November 2011 STORY:US Crash- REPLAY Private plane crashes in Arizona, all six on board feared dead LENGTH: 01:41 FIRST RUN: 0530 RESTRICTIONS: No Access NAm...
More info...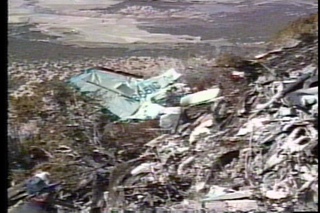 COLORADO PLANE CRASH
FAMILY OF FIVE FROM ARIZONA ARE KILLED WHEN THEIR PLANE CRASHES INTO A SNOWY SOUTHWESTERN COLORADO MESSA EN ROUTE TO TELLURIDE, COLORADO.
More info...
Preview Unavailable
US Families - Reaction of families of soldier...
TAPE: EF03/0276 IN_TIME: 04:28:07 DURATION: 4:43 SOURCES: ABC/TELEVISA RESTRICTIONS: DATELINE: Various - March 26, 2003 SHOTLIST: ABC Yuma, Arizona 1. Still photo of Marine Major Jay Aubin 2. ...
More info...
---