Your search for "grand princess cruise ship" returned 118 results

Preview Unavailable
HD-70 Beta SP
1953 UNIVERSAL NEWSREEL 3
More info...
ROYAL COUPLE ARRIVE IN U.S. ON WORLD TOUR
Prussian Prince Louis Ferdinand and his Romanoff bride Princess Kira arrive in New York City on a world tour.
More info...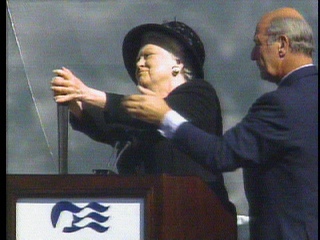 LARGEST LINER GRAND PRINCESS CHRISTENED (9/3...
A new ocean liner was christened yesterday in New York City. Actress Olivia de Haviland swung the ceremonial champagne bottle against the hull of what's been dubbed "the largest moving object ever...
More info...
AERIALS OF PORT OF OAKLAND POOL CALIFORNIA P2...
AERIAL CHOPPER FTG OF THE PORT OF OAKLAND PREPPING FOR THE ARRIVAL OF THE GRAND PRINCESS CRUISE SHIP THAT HAD AN OUTBREAK OF CORONAVIRUS COVID-19 COVID19 pool aerials tents are being setup no crui...
More info...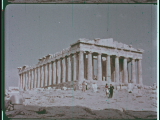 MEDITERRANEAN
CRUISE OF THE MEDITERRANEAN. TANGIERS, MALTA, ISTANBUL, ROME, VENICE, MONTE CARLO. MAP OF MEDITERRANEAN AREA. PYRAMIDS. ANCIENT EMPIRE. LOST CIVILIZATIONS. CLIFFSIDE VILLAGE. SPARKLING SEA. O...
More info...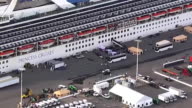 Coronavirus - passengers leave San Francisco ...
Passengers leaving cruise ship, Grand Princess, after it was docked off the coast of San Francisco after it was hit by Coronavirus (BBC News 1pm Bulletin - 11/03/2020 - AEXZ288W)
More info...
GRAND PRINCESS
00:00:00:00 - TAPE DONATED FROM NY BUREAU SHOWS B-ROLL OF THE WORLD'S LARGEST CRUISE SHIP, GRAND PRINCESS (0:00) /
More info...

Preview Unavailable
MDS-1 16mm
ROYAL EUROPE #1
More info...
CA: CORONAVIRUS-CRUISE PASSENGERS CONTINUE TO...
**SEE RE-31TU FOR STORY INFORMATION**\n\n --SUPERS--\nTuesday\nOakland, CA\n\n --VIDEO SHOWS--\nMore passengers disembark from Grand Princess cruise ship carrying coronavirus patients in Califor...
More info...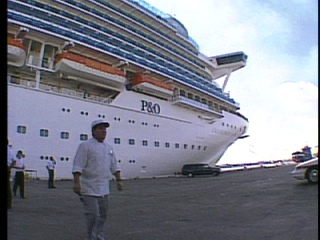 World's Largest Cruise Ship (10/02/1998)
It's a grand homecoming for the massive boat...now docked at her new home in Port Everglades. The massive ship boasting some amazing attractions...including a wedding chapel and a virtual reality c...
More info...
---