Your search for "Muybridge horse" returned 6 results
42754 The biography Of The Motion Picture Camera
42754 HISTORY OF THE MOTION PICTURE CAMERA & EARLY MOVIES LUMIERE BROTHERS
More info...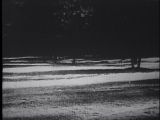 HOLLYWOOD FILMMAKING
REENACTMENT OF DOCTOR, SCIENTIST STUDYING MOTION, WEARING WHITE LAB COAT, WITH HORSE AND RIDER. EXPERIMENT. RIDER HOLDS DEVICE, AN ADAPTATION OF THE PULSE-TAKING INVENTION. FOUR NEEDLES ON A DR...
More info...
1880s
b&w documentary on the development of the motion picture camera - photograph of Eadweard Muybridge, model of setup used for 24 camera in classic horse movement photos by Muybridge, the Muybridge...
More info...
Animation of 'Man and horse jumping a fence',...
Animation created from 'Man and horse jumping a fence', plate 640 from 'Animal Locomotion', 1887, by Eadweard Muybridge.
More info...
Cinerama Introduction by Lowell Thomas
Introduction to the Cinerama process by Lowell Thomas. Shots include visual representation of morse code as circular patterns. Thomas speaks about the Cinerama process. Thomas explains various art...
More info...
1890s
b&w - origins of the motion picture - the United States Navy at the turn of the century - Teddy Roosevelt giving speech and in New York City watching parade - 1903 car race - cave paintings - sculp...
More info...
---