Your search for "balanchine" returned 260 results
76154 Insects As Carriers Of Diseases
76154 WWII U.S. GOVERNMENT CARTOON "INSECTS AS CARRIERS OF DISEASES" WALT DISNEY
More info...
"NUTCRACKER" BALLET PERFORMED IN GERMANY
Cologne, Germany. German commentary, documentation on file. Various shots of the ballet "The Nutcracker" being performed on stage in Cologne. The Choreography is done by the American George...
More info...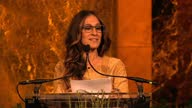 SPEECH - Sarah Jessica Parker - Variety's Pow...
SPEECH - Sarah Jessica Parker reads a George Balanchine quote about women at Variety's Power Of Women: New York at Cipriani 42nd Street on April 25, 2014 in New York City.
More info...
GEORGE BALANCHINE OBITUARY
An interview with George Balanchine is part of an obituary. Ballet dancers rehearse Balanchine's choreography.
More info...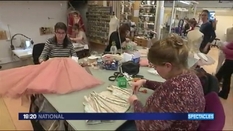 [Ballet: behind the scenes of Songe d'une nui...
FR3 / France 3
More info...
Omnibus - Leonard Bernstein: Midwinter Nights...
Midwinter Night's Dream: Lincoln Center, a preview of the Lincoln Center for the Performing Arts, whose opening is planned for 1964. Includes segments of performances of Shakespeare's King John,...
More info...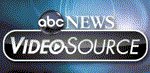 Preview Unavailable
GEORGE BALANCHINE CHOREOGRAPHER
WNET OFF AIR. CHOREOGRAPHY BY GEORGE BALANCHINE. SEGMENTS OF DANCE PERFORMED TO VARIOUS PIECES OF MUSIC INCLUDING STRAVINSKY'S "VIOLIN CONCERTO" AND "CHACONNE" BY STRAVINSKY. CI: MUSIC: DANCE....
More info...
L'HEURE DU CONCERT
BILINGUAL INTERVIEW Interviewed by Rene Levesque, George Balanchine, dancer and choreographer from Russia George Balanchine speaks of the foundation and operation of his company, the New York...
More info...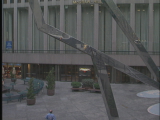 NEW YORK CITY
NEW YORK CITY BALLET PERFORMING PARTY SCENE OF GEORGE BALANCHINE NUTCRACKER
More info...
AMERICAN BALLET
00:00:00:00 Ballet dancing on stage (full dress rehearsal of Donizetti variations by Balanchine) (0:00)/
More info...
HZ Russia Bolshoi Ballet
Exclusive behind the scenes view of the Bolshoi Ballet
More info...
19 20 Edition Pays de la Loire: [issue of 03 ...
Atlantique
More info...
---