Your search for "masters nicklaus" returned 234 results

Preview Unavailable
1960s NEWSREELS
GOLF'S WHIZ KID NICKLAUS SMASHES PAR TO WIN MASTERS
More info...
Jack Nicklaus wins the Masters Tournament at ...
Crowd at Golf Tournament at Augusta National Golf Club. Different golfers playing a round of golf including Jack Nicklaus. Crowd watching and clapping. Jack Nicklaus drives ball to the hole and win...
More info...
NICKLAUS WINS 45TH PGA CHAMPIONSHIP
At the Dallas Athletic Club golf course, Arnold Palmer battles Jack Nicklaus, Bruce Crampton, and Dow Finsterwald for the 45th PGA championship. Nicklaus wins the cup. Master in Apple Pro Res 42...
More info...
Golf On This Day 1
ON THIS DAY: Golf legend Jack Nicklaus wins first of his record 6 Masters titles
More info...
JACK NICKLAUS WINS MASTERS GOLF
Augusta, Georgia Two shots of crowds on the fairway at Augusta golf-course, Georgia. MS. Arnold Palmer, Gary Player and Jack Nicklaus teeing off. VS. Showing Palmer, Player and Nicklaus on ...
More info...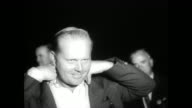 Highlights of 1966 Masters Golf Tournament
Crowd running across National Golf Club fairways to watch Jack Nicklaus play in the Masters Gold Tournament / Nicklaus attempts a hole in one but falls short and ties the first game / Nicklaus with...
More info...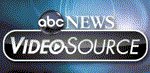 Preview Unavailable
MASTERS GOLF
ORIG. COLOR 75' SOF / MAG. VS GOLFERS AT MASTERS TOURNAMENT & CROWD WATCHING. INTERV. JACK NICKLAUS ON CONDITION OF THE COURSE. CI: SPORTS: GOLF. PERSONALITIES: NICKLAUS, JACK.
More info...

Preview Unavailable
DN-LB-583 Beta SP
Golf - Gay Brewer Wins Masters
More info...
ARNOLD PALMER WINS 1964 MASTERS GOLF
United States of America (USA). Title reads 'Golf - The Master Wins the Masters'. GV. The Augusta National Golf Course showing crowds on the freeway. Various shots of the golf tournament show...
More info...
JACK NICKLAUS & ARNOLD PALMER
Gary Player, Arnold Palmer and Jack Nicklaus compete in the 1965 U.S. Open, which Nicklaus wins.
More info...

Preview Unavailable
DN-206 1 inch
Sport Highlights of 1963
More info...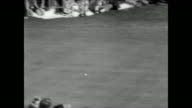 Masters Golf Tournament
Huge crowd at the Augusta National Golf Club where the 1967 Masters Tournament is underway / CU Jack Nicklaus / cut at 36th hole and walks off with caddy / CU Julius Boros makes the hole / Bobby Ni...
More info...
---